Difference between revisions of "Paul Dryburgh"
From Applied Optics Wiki
m

Line 24:
Line 24:
 

==Publications==

 

==Publications==

 
 
 
+
 
+
 
+
 
+
 
+
 
+
 
+
 
+
 
+
 
+
 
+
 
+
 
 
 

<bibtex>

 

<bibtex>
---
Revision as of 14:02, 1 October 2020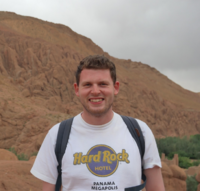 I am a third year EngD student in The University of Nottingham's Optics and Photonics research group, investigating Quantitative NDE for Additive Manufacture. I am funded through The Centre for Doctoral Training in Non-Destructive Evaluation (RCNDE). I graduated from The University of Edinburgh in 2016, with an MEng in Mechanical Engineering. More information on my research can be found at NDE for AM.
I am the PGR rep for the Optics and Photonics group for the 2020/21 academic year, please contact me to raise issues with the Postgraduate Research Engineering Community (PGREC).
Contact:
Email:
paul.dryburgh@nottingham.ac.uk
Phone Number:
(0115) 84-67892
Location:
Room 202, Tower Building,
The University of Nottingham,
University Park,
Nottingham,
NG7 2RD
Other Profiles
Publications
P. Dryburgh, R.J. Smith, P. Marrow, S. Lainé, S. D. Sharples, M. Clark, W. Li
-
Determining the crystallographic orientation of hexagonal crystal structure materials with surface acoustic wave velocity measurements, journal =
(106171),2020
P. Dryburgh, D. Pieris, F. Martina, R. Patel, S. Sharples, W. Li, A.T. Clare, S. Williams, R. Smith
-
Spatially resolved acoustic spectroscopy for integrity assessment in wire–arc additive manufacturing
Additive Manufacturing 28(C):236-251,2019
R. Patel, M. Hirsch, P. Dryburgh, D. Pieris, S. Achamfuo-Yeboah, R. Smith, R. Light, S.D. Sharples, A.T. Clare, Matt Clark
-
Imaging Material Texture of As-Deposited Selective Laser Melted Parts Using Spatially Resolved Acoustic Spectroscopy
Applied Sciences 8(10):1991,2018
https://www.mdpi.com/2076-3417/8/10/1991
Bibtex

Author : R. Patel, M. Hirsch, P. Dryburgh, D. Pieris, S. Achamfuo-Yeboah, R. Smith, R. Light, S.D. Sharples, A.T. Clare, Matt Clark
Title : Imaging Material Texture of As-Deposited Selective Laser Melted Parts Using Spatially Resolved Acoustic Spectroscopy
In : Applied Sciences -
Address :
Date : 2018

A. Speidel, R. Su, J. Mitchell-Smith P. Dryburgh, I Bisterov, D. Pieris, W. Li, R. Patel, Matt Clark, A.T.Clare
-
Crystallographic texture can be rapidly determined by electrochemical surface analytics
Acta Materialia 159:89 - 101,2018
https://www.sciencedirect.com/science/article/pii/S1359645418305998
Bibtex

Author : A. Speidel, R. Su, J. Mitchell-Smith P. Dryburgh, I Bisterov, D. Pieris, W. Li, R. Patel, Matt Clark, A.T.Clare
Title : Crystallographic texture can be rapidly determined by electrochemical surface analytics
In : Acta Materialia -
Address :
Date : 2018

M. Hirsch, P. Dryburgh, S. Catchpole-Smith, R. Patel, L. Parry, S.D. Sharples, I.A. Ashcroft, A.T. Clare
-
Targeted rework strategies for powder bed additive manufacture
Additive Manufacturing 19:127 - 133,2018
https://www.sciencedirect.com/science/article/pii/S2214860417303925
Bibtex

Author : M. Hirsch, P. Dryburgh, S. Catchpole-Smith, R. Patel, L. Parry, S.D. Sharples, I.A. Ashcroft, A.T. Clare
Title : Targeted rework strategies for powder bed additive manufacture
In : Additive Manufacturing -
Address :
Date : 2018

Conferences
CIRP Lane 2018 - Furth, Germany
Solid Freeform Fabrication Symposium 2018 - Austin, Texas USA
Laser Ultrasonics 2018 2018 - Nottingham, UK
Laser Precision Microfabrication Symposium 2018 - Edinburgh, UK
RCNDE Technology Transfer 2018 - London, UK
Rolls-Royce EngD Conference 2017 - Derby, UK
Optics and Ultrasound IV - Glasgow, UK