Difference between revisions of "Rikesh Patel"
From Applied Optics Wiki
Line 13:
Line 13:
 

'''Email'''

 

'''Email'''

 
 
−

rikesh.patel[[Image:Atnotts.png|133px|link=]]

+

rikesh.patel[[Image:Atnotts.png||link=]]

 
 
 

==External profile links==

 

==External profile links==
---
Revision as of 09:41, 31 August 2021
Rikesh Patel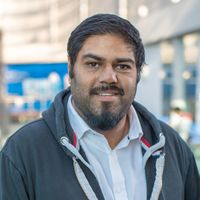 Assistant Professor, Electrical and Electronic Department, University of Nottingham
Location A46 Coates Building, University Park, Nottingham, NG7 2RD, UK
Phone
+44 (0)115 84-67892
Email
rikesh.patel

External profile links
UoN repository for Rikesh Patel (old link)
https://orcid.org/0000-0003-0751-4533
Journal publications
Patel Rikesh, Hirsch Matthias, Dryburgh Paul, Pieris Don, Achamfuo-Yeboah Samuel, Smith Richard, Light Roger, Sharples Steve, Clare Adam, Clark Matt
-
Imaging Material Texture of As-Deposited Selective Laser Melted Parts Using Spatially Resolved Acoustic Spectroscopy
Speidel Alistair, Su Rong, Mitchell-Smith Jonathon, Dryburgh Paul, Bisterov Ivan, Pieris Don, Li Wenqi, Patel Rikesh, Clark Matt, Clare Adam T.
-
Crystallographic Texture Can Be Rapidly Determined by Electrochemical Surface Analytics
Colombi, Andrea, Ageeva, Victoria, Smith, Richard J., Clare, Adam, Patel, Rikesh, Clark, Matt, Colquitt, Daniel, Roux, Philippe, Guenneau, Sebastien, Craster, Richard V.
-
Enhanced sensing and conversion of ultrasonic Rayleigh waves by elastic metasurfaces
M. Hirsch, P. Dryburgh, S. Catchpole-Smith, R. Patel, L. Parry, S.D. Sharples, I.A. Ashcroft, A.T. Clare
-
Targeted rework strategies for powder bed additive manufacture
Rikesh Patel, Wenqi Li, Richard J. Smith, Steve D. Sharples, Matt Clark
-
Orientation imaging of macro-sized polysilicon grains on wafers using spatially resolved acoustic spectroscopy
Hirsch, M., Catchpole-Smith, S., Patel, R., Marrow, P., Li, Wenqi, Tuck, C., Sharples, S. D., Clare, A. T.
-
Meso-scale defect evaluation of selective laser melting using spatially resolved acoustic spectroscopy
Matthias Hirsch, Rikesh Patel, Wenqi Li, Guangying Guan, Richard K. Leach, Steve D. Sharples, Adam T. Clare
-
Assessing the capability of in-situ nondestructive analysis during layer based additive manufacture
Richard J. Smith, Matthias Hirsch, Rikesh Patel, Wenqi Li, Adam T. Clare, Steve D. Sharples
-
Spatially resolved acoustic spectroscopy for selective laser melting
Rikesh Patel, Samuel Achamfuo-Yeboah, Roger Light, Matt Clark
-
Widefield two laser interferometry
Rikesh Patel, Samuel Achamfuo-Yeboah, Roger Light, Matt Clark
-
Ultrastable heterodyne interferometer system using a CMOS modulated light camera
Rikesh Patel, Samuel Achamfuo-Yeboah, Roger Light, Matt Clark
-
Widefield heterodyne interferometry using a custom CMOS modulated light camera
Proceedings
Patel, Rikesh, Clark, Matt, Achamfuo-Yeboah, Samuel
-
Widefield Ultrastable Heterodyne Interferometry Using a Custom {{CMOS}} Modulated Light Camera
P. Dryburgh, R. Patel, S. Catchpole-Smith, M. Hirsch, L. Perry, I. A. Ashcroft, A.T. Clare
-
Targeted Rework of Powder Bed Fusion Additive Manufacturing
Don Milesh Pieris, Rikesh Patel, Paul Dryburgh, Matthias Hirsch, Wenqi Li, Steve D. Sharples, Richard J. Smith, Adam T. Clare, Matt Clark
-
Spatially Resolved Acoustic Spectroscopy Additive Manufacturing – towards Online Inspection
Paul Dryburgh, Rikesh Patel, Don M. Pieris, Matthias Hirsch, Wenqi Li, Steve D. Sharples, Richard J. Smith, Adam T. Clare, Matt Clark
-
Spatially Resolved Acoustic Spectroscopy for Texture Imaging in Powder Bed Fusion Nickel Superalloys
Matt Clark, Adam Clare, Paul Dryburgh, Wenqi Li, Rikesh Patel, Don Pieris, Steve Sharples, Richard Smith
-
Spatially {{Resolved Acoustic Spectroscopy}} ({{SRAS}}) {{Microstructural Imaging}}
Conferences and Events
{Rikesh Patel}, {Samuel Achamfuo-Yeboah, Matt Clark}
-
Custom {{CMOS}} Modulated Light Camera for Use in Aerospace Industry
Rikesh Patel
-
Widefield Heterodyne Interferometry Using a Custom {{CMOS}} Modulated Light Camera
{Rikesh Patel}, {Matt Clark, Samuel Achamfuo-Yeboah}
-
Widefield Ultrastable Heterodyne Interferometry Using a Custom {{CMOS}} Modulated Light Camera
{Rikesh Patel}, {Samual Achamfuo-Yeboah, Roger Light, Matt Clark}
-
Widefield Two-Laser Interferometer System Using a Modulated Light Camera
{Rikesh Patel}, {Guangying Guan, Matthias Hirsch, Wenqi Li, Richard Smith, Samuel Achamfuo-Yeboah, Roger Light, Adam Clare, Christopher Tuck, Matt Clark, Steve Sharples}
-
Ultrasonic {{Inspection}} of {{Additive Manufactured Components}}
{Richard Smith}, {Rikesh Patel, Guangying Guan, Matthias Hirsch, Wenqi Li, Samuel Achamfuo-Yeboah, Roger Light, Adam Clare, Christopher Tuck, Matt Clark, Steve Sharples}
-
{{SRAS UT Grain Measurement}}
{Adam Clare}, {Steve Sharples, Chris Tuck, Kristian Groom, Matthias Hirsch, Rikesh Patel, Wenqi Li, Richard Smith, Guangying Guan}
-
{{NDT}} for {{AM}} – {{Research}} Efforts at the {{University}} of {{Nottingham}}
{Rikesh Patel}, {Matthias Hirsch, Wenqi Li, Richard Smith, Samuel Achamfuo-Yeboah, Chris Tuck, Matt Clark, Adam Clare, Steve Sharples}
-
On Using Ultrasonic Non-Destructive Evaluation for Additive Manufactured Samples
{Jethro Coulson}, {Rikesh Patel, Steve Sharples, Adam Clare, Wenqi Li, Richard Smith, Matthias Hirsch, Chris Tuck, Matt Clark}
-
Non-{{Destructive Evaluation}} for {{Additive Manufacturing}}
{Steve Sharples}, {Adam Clare, Matt Clark, Chris Tuck, Richard Smith, Rikesh Patel, Guangying Guan, Matthias Hirsch, Wenqi Li, Preetha Malla}
-
{{RCNDE}}: {{NDE}} for {{Additive Manufacturing Research Review}}
{Rikesh Patel}, {Matthias Hirsch, Wenqi Li, Richard Smith, Adam Clare, Steve Sharples}
-
Laser Ultrasonic Inspection of As-Deposited {{AM}} Samples
{Victoria Ageeva}, {Andrea Colombi, Adam Clare, Richard V. Craster, Rikesh Patel, Richard Smith, Matt Clark}
-
Control of the {{Rayleigh}} Wave Propagation with a Resonant Metawedge: A Practical Concept Demonstration of Seismic Metamaterials
Rikesh Patel
-
{{RCNDE}}: {{Laser}} Ultrasonic Inspection of as-Deposited {{AM}} Samples
{A. Clare}, {S. Sharples, R. Leach, G. Guan, M. Hirsch, R. Patel}
-
In-{{Process Monitoring}} of {{Additive Layer Manufacturing}}
{Rikesh Patel}, {Wenqi Li, Matthias Hirsch, Richard Smith, Adam Clare, Steve Sharples}
-
{{RCNDE}}: {{Inspection}} of Additive Manufacture Parts Using {{SRAS}}
{Rikesh Patel}, {Wenqi Li, Paul Marrow, Matthias Hirsch, Richard Smith, Adam Clare, Steve Sharples, Matt Clark}
-
Using Spatially Resolved Acoustic Spectroscopy ({{SRAS}}) on {{AM}} Produced Parts
{Adam T. Clare}, {Matthias Hirsch, Guanying Guan, Rikesh Patel, Wenqi Li, Paul Dryburgh, Don Pieris, Steve Sharples}
-
Approaches for {{AM}} In-Process Inspection Using {{SRAS}} and {{OCT}}
{Rikesh Patel}, {Wenqi Li, Matthias Hirsch, Richard Smith, Adam Clare, Steve Sharples}
-
{{RCNDE}}: {{Additive Manufacturing}} and the Role of {{NDE}}
{Rikesh Patel}, {Wenqi Li, Matthias Hirsch}
-
{{RCNDE}}: {{SRAS}} Live Demonstration
{Steve Sharples}, {Adam Clare, Matt Clark, Chris Tuck, Richard Smith, Matthias Hirsch, Rikesh Patel, Wenqi Li, Paul Dryburgh, Don Milesh Pieris}
-
{{RCNDE}}: {{NDE}} for {{Additive Manufacturing Research Review}}
{Adam Clare}, {Steve Sharples, Matt Clark, Chris Tuck, Richard Smith, Matthias Hirsch, Rikesh Patel, Wenqi Li}
-
{{RCNDE}}: {{NDE}} for {{Additive Manufacturing Research Review}}
{Rikesh Patel}, {Don Pieris, Paul Dryburgh, Matthias Hirsch, Matt Clark}
-
{{SKED}}-{{In}}-a-Box
{Don Milesh Pieris}, {Sam Catchpole-Smith, Matt Clark, Adam Clare, Steve Sharples, Rikesh Patel, Wenqi Li, Richard Smith}
-
Non-{{Destructive Evaluation}} of {{Additive Layer Manufactured Component Microstructure}}
{Rikesh Patel}, {Don Pieris, Paul Dryburgh, Matt Clark}
-
{{SKED}}-{{In}}-a-Box
{Rikesh Patel}, {Samuel Achamfuo-Yeboah, Don Milesh Pieris, Roger Light, Steve Sharples, Matt Clark}
-
{{SKED}}-in-a-Box: A Simple and Inexpensive Laser Ultrasound Rough Surface Detector System
{Don Milesh Pieris}, {Rikesh Patel, Matthias Hirsch, Paul Dryburgh, Sam Catchpole-Smith, Steve Sharples, Wenqi Li, Richard Smith, Adam Clare, Matt Clark}
-
Detection of the Manipulation of Additively Manufactured Component Microstructure Using Spatially Resolved Acoustic Spectroscopy
{Paul Dryburgh}, {Rikesh Patel, Matthias Hirsch, Don Milesh Pieris, Wenqi Li, Richard Smith, Matt Clark, Adam Clare}
-
Detecting and Characterising Subsurface Porosity in {{Selective Laser Melting}} ({{SLM}}) Components Using Laser Ultrasound
{Wenqi Li}, {R. Patel, R. J. Smith, M. Clark}
-
Orientation Imaging of Polysilicon Grains Using Spatially Resolved Acoustic Spectroscopy
{P Dryburgh}, {DM Pieris, R Patel, W Li, R Smith, M Clark, AT Clare}
-
{{RCNDE}}: {{Laser}} Ultrasound for Additive Manufacturing Defects
{Don M Pieris}, {Rikesh Patel, Richard J Smith, Wenqi Li, Adam Clare, Matt Clark}
-
{{RCNDE}}: {{Observing Defects}} and {{Microstructure}} in {{Additively Manufactured Components}}
{Adam Clare}, {Matt Clark, Steve Sharples, Richard Smith, Wenqi Li, Rikesh Patel, Paul Dryburgh, Don Milesh Pieris}
-
Finding and {{Fixing Defects}} in {{Metal Powder Bed Processes}}
{Adam Clare}, {Richard Leach, Ian Ashcroft, Matthias Hirsch, Rikesh Patel, Steve Sharples}
-
Healing {{Defects}} within {{Powder Bed Fabrication}}
{Adam Clare, Rikesh Patel}, {Matt Clark, Chris Tuck, Richard Smith, Wenqi Li, Paul Dryburgh, Don Milesh Pieris}
-
{{RCNDE}}: {{NDE}} for {{Additive Manufacturing Research Review}}
{Wenqi Li}, {Rikesh Patel, Richard Smith, Matthias Hirsch, Matt Clark, Adam Clare, Steve Sharples}
-
Spatially Resolved Acoustic Spectroscopy ({{SRAS}}): Texture and Microstructure Characterisation
{Rikesh Patel}, {Matt Clark, Adam Clare, Steve Sharples, Richard Smith, Wenqi Li, Paul Dryburgh, Don Milesh Pieris}
-
Spatially {{Resolved Acoustic Spectroscopy}} ({{SRAS}}) and {{NDE}} for {{Additively}} Manufactured Components
{Paul Dryburgh}, {Rikesh Patel, Sam Catchpole-Smith, Matthias Hirsch, Luke Parry, Richard J Smith, Matt Clark, Ian A Ashcroft, Adam T Clare}
-
Targeted {{Rework}} of {{Powder Bed Fusion Additive Manufacturing}}
{R Patel}, {P Dryburgh, D Pieris, W Li, R Smith, A Clare, M Clark}
-
Non-Destructive Evaluation of Additively Manufactured Materials –towards Online Inspection for Selective Laser Melting
{Rikesh Patel}, {Matthias Hirsch, Paul Dryburgh, Don M. Pieris, Wenqi Li, Richard Smith, Matt Clark, Adam Clare, Steve Sharples}
-
{{RCNDE}}: {{Spatially}} Resolved Acoustic Spectroscopy ({{SRAS}}) Inspection on as-Deposited Selective Laser Melted ({{SLM}}) Builds
{Wenqi Li}, {Rikesh Patel, Richard Smith, Matt Clark, Steve Sharples}
-
{{RCNDE}}: {{Orientation Imaging}} of {{Polysilicon Grains Using Spatially Resolved Acoustic Spectroscopy}}
{P Dryburgh}, {D M Pieris, R Patel, W Li, R J Smith, M Clark, A T Clare}
-
Making and Utilising Online Measurements by Laser Ultrasound in Powder Bed Additive Manufacturing
{W Li}, {R Patel, R J Smith, M Clark}
-
Orientation Imaging of Polysilicon Grains Using Spatially Resolved Acoustic Spectroscopy
Rikesh Patel
-
Laser Ultrasound in Additive Manufacture: Overcoming the Rough Surface Challenge
{Rikesh Patel}, {Paul Dryburgh, Don Pieris, Wenqi Li, Richard Smith, Matt Clark, Adam Clare}
-
Non-{{Destructive Evaluation}} of {{Additively Manufactured Materials}} - towards Online Inspection for {{Selective Laser Melting}}
{Paul Dryburgh}, {Don Milesh Pieris, Rikesh Patel, Richard J Smith, Steve Sharples, Matt Clark, Adam T Clare}
-
Spatially {{Resolved Acoustic Spectroscopy}} ({{SRAS}}) for Additive Manufacturing
{Paul Dryburgh}, {Don Milesh Pieris, Rikesh Patel, Matthias Hirsch, Richard J Smith, Steve Sharples, Matt Clark, Adam T Clare}
-
The Use of a Laser to Monitor and Correct in {{SLM}}
{Don Pieris}, {Rikesh Patel, Paul Dryburgh, Matthias Hirsch, Wenqi Li, Steve D. Sharples, Richard J. Smith, Adam T. Clare, Matt Clark}
-
Spatially Resolved Acoustic Spectroscopy Additive Manufacturing – towards Online Inspection
{Wenqi Li}, {Rikesh Patel, Paul Dryburgh, Don Milesh Pieris, Richard Smith, Adam Clare, Matt Clark}
-
Spatially Resolved Acoustic Spectroscopy ({{SRAS}}): A {{NDE}} Technique for Materials Characterisation Based on Laser Ultrasonic